Huawei wants to enter the big premium world of smartphones. We've seen many Chinese companies like OnePlus taking on the international market. And now, Huawei wants to join the big game to compete with big companies like Samsung and Apple. Taking that into their minds, they launched their camera-centric smartphone into the international market – the Huawei P9. But, is it more than a camera phone or just a camera phone? Let's find that out in our full review.
DESIGN
Ask me about the P9's design, I would say, yes it looks premium and feels premium. I would also say after the OnePlus 3, this is a phone with extraordinary designed. Measuring only 6.95 mm it's one of the slimmest smartphones in the premium range of smartphones and I actually love that. Huawei P9 is one of my favorite designs among the smartphones. This phone is light enough to be effortless, but not so slight as to be insubstantial. It is encased in an aluminum unibody, after all. The sides are straight and regular, but they're not sharp and don't dig into my palm.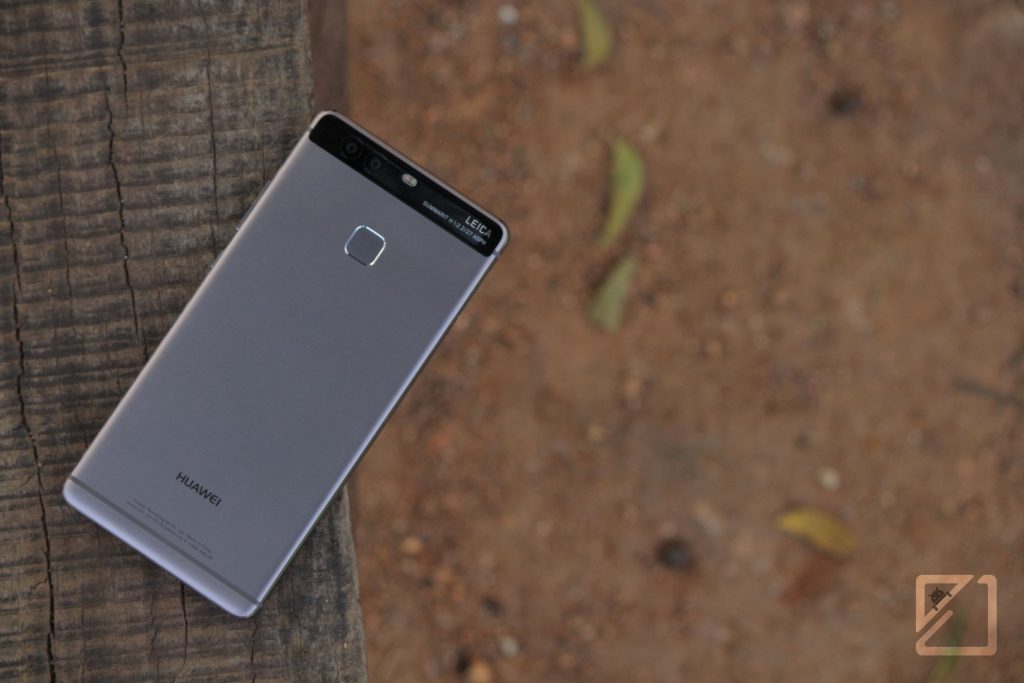 If we take a look at the phone, on the right side, we get our same old volume rockers and the power button which is textured making it differentiate from the volume rockers. Taking a look at the left, we get our SIM tray which has a nano SIM card and microSD card slots. On the top, we have our noise-cancellation mic which justifies it since the back is covered by the dual camera setup with a glass on them. On the bottom of the phone, we have our USB Type-C port along with the speaker grills and the 3.5 mm audio jack which seem like a complicated setup but the USB-C port at the bottom is finished with perfect smoothness, whereas I've experienced many phones, that have a sharp edge to their charging ports. At the back, it looks much same as the Nexus 6P which should actually since it was made by Huawei itself. Also at the back, we get our fingerprint sensor which is a square like one with small round corners and at the bottom of the back, we get our Huawei branding.
In the overall design aspect, I would just say one thing that I love it and everyone would love it obviously. That great chamfered edges, rounded corners, and the metallic body which completely provides you a great package in terms of design.
DISPLAY
The 5.2-inches display on the Huawei P9 outshines the complete design. On paper, it might look very small but in the real world, I would say it is a perfect size to hold in hands. I've big hands so I didn't have any problems while reaching the corners of the display. But in case if you have small hands, there is a software thing to make the display shorter. The display is Full HD 1080p IPS LCD display which gets the P9 fall back in the race of higher resolution displays. But it doesn't look bad at all. I just want to say it doesn't justify its price.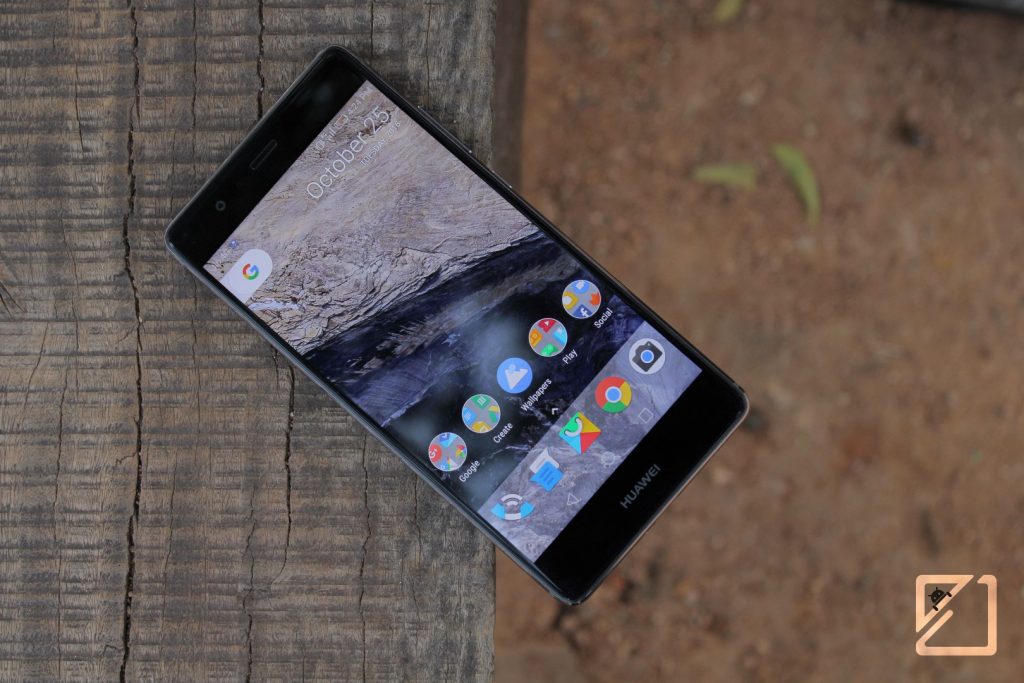 But for general smartphone use, the P9's display is perfectly sufficient. To be fair to Samsung, HTC, and LG, their displays are more vibrant and prettier to look at, but that's a matter of higher-quality components rather than having more pixels crammed in.
PERFORMANCE
Under the hood, we get the HiSilicon Kirin 955 octa-core chipset clocked at 2.5 GHz coupled with the Mali T880 MP4 GPU and 3 GB of RAM with 32 GB of internal storage. All this brings up a great package of performance. The Kirin processor that undermines the good news around Huawei's big battery also plays the spoiler with respect to the P9's performance. Small traces of lag and animation stutters are apparent on this phone that you won't find on its Snapdragon 820 competitors. There's clearly enough power here to handle intensive tasks — photos shot with the two cameras are processed almost as swiftly as a single capture on any other phone — but there are tiny delays and imperfections that detract from the smoothest user experience. Even the big games were handled greatly like Asphalt 8, N.O.V.A. 3, Assassin's Creed, Pokemon Go, etc. were handled very smoothly.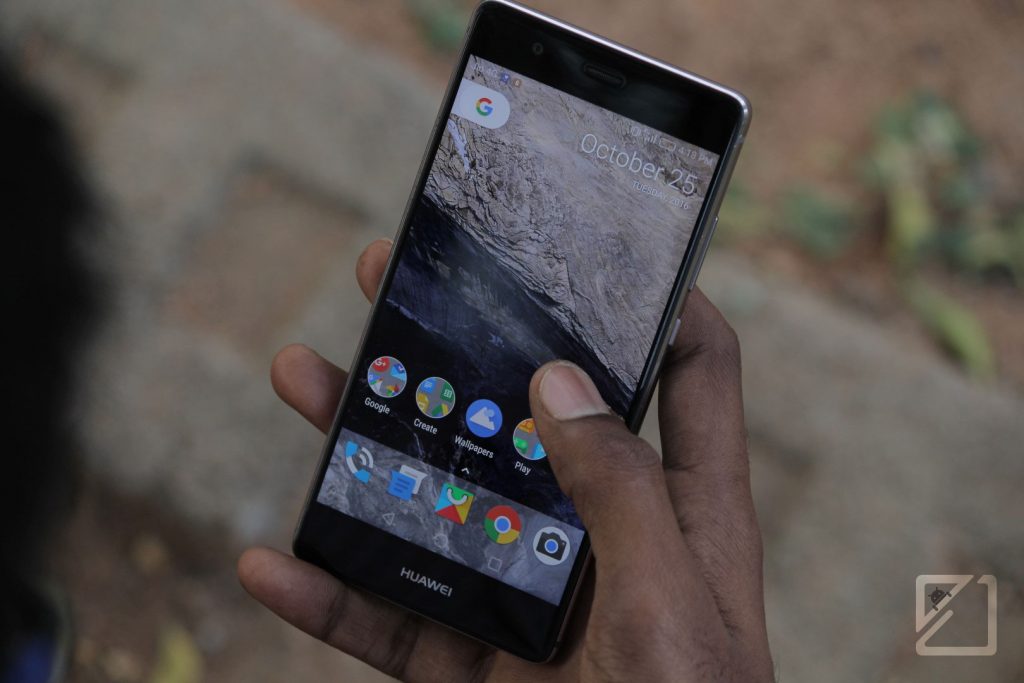 Huawei's fingerprint sensors have consistently been ahead of the competition, and the P9's seems to be the best one yet. No other phone has been as reliable and consistent in recognizing my fingerprint as this one. On the Antutu Benchmark test too, it scored 94,487 and 2,861 on the Geekbench which is a lot behind compared to the Oneplus 3's performance which is Rs. 12,000 less in terms of price.
SOFTWARE
The P9 runs on the EMUI 4.1 which is based on Android 6.0.1 Marshmallow. The UI being made by Huawei is heavily customized for the purpose of bringing you some great and exclusive features to the P9. The UI doesn't feel bad at all. I actually like it but still stock Android would be 1st in my personal preference. EMUI has been the butt of many jokes about horrible Android software skins, so maybe you should grab a seat before reading what follows.
Like Xiaomi's MIUI, this is a wholesale reorganization of Android, offering Huawei's own notifications panel, quick-launch shortcuts, menus, settings, and extra functionality like a memory cleaning utility. At a time when LG and Samsung are relying more and more on Google's default Android interface elements, and HTC has gone almost completely stock, Huawei takes the old-school approach of tweaking everything. You can take a look at the images provided below to get an idea of how the software looks like.
CAMERA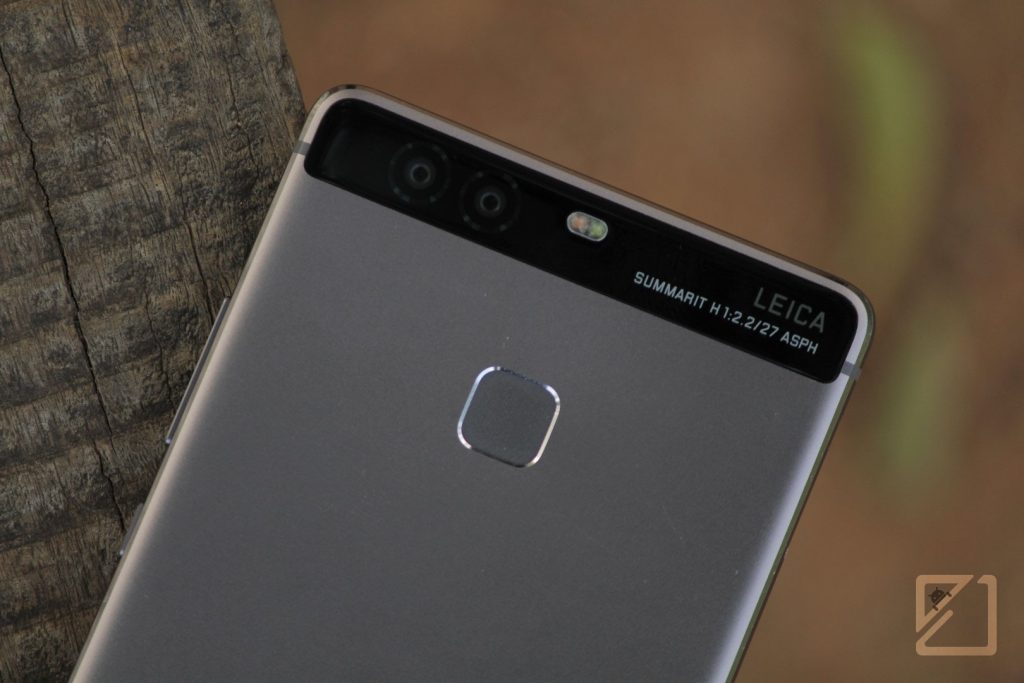 Here comes the exciting part which isn't quite exciting at all. I guess you would have understood from the line. Having dual cameras isn't a great thing at all. The phones like LG V20 has a complete use for having dual cameras which isn't the case here with the Huawei P9. One of the lenses is used to capture colors and the other is for monochrome (B&W in other words). Both the cameras here are 12 MP sensors branded as "co-engineered with LEICA". To give an idea about Leica, I would Leica is one of the biggest provider of lenses to some big cameras. And the question comes here, Are the Dual camera lenses necessary? To that, I would say they are quite good but aren't the best. In the daylight, the images come out with a lot of details whereas at night, lot of noise is there in the picture.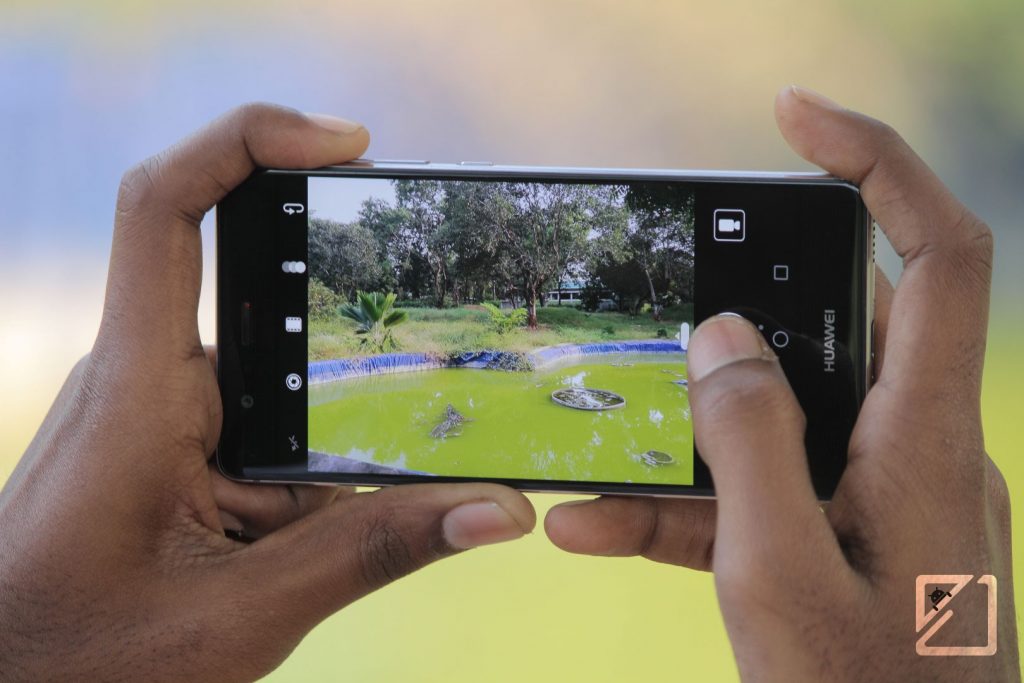 The camera software provides a lot of features like Light painting, monochrome mode, beauty mode, and many others. In addition to that, there is also a Pro mode for extreme photographers which makes it easy to customize the ISO, Aperture, Focus, Shutter Speed and some other camera things. I expected it to be better than other devices after the hype we had but it isn't actually the best. I would rather say it is very good. What I don't like about the P9's camera is its inconsistency. Sometimes I'll get a shot that makes me marvel at its precision, but on other occasions, I'm greeted by disappointing mediocrity. To give you a better perspective of how the images look on the P9, take a look at the gallery of rear camera samples taken with P9 below.
Rear Camera Samples
The front camera, on the other hand, isn't bad at all. I like it whether it was in bright lighting conditions or in low lighting conditions. The details come out to be very good until it turns the beauty mode automatically. The beauty mode even works while taking videos too. But the beauty mode here can be adjusted at least to our preferences which is a good thing. To give you a better idea, take a look at the samples below.
Front Camera Samples
At last, I would say that the P9's camera above the "good enough" threshold to satisfy most smartphone users, and yes it does take some lovely black-and-white shots with its monochrome sensor.
BATTERY
On the P9, we get a 3,000 mAh battery which delivers an average amount of battery life, though. I dislike the fact that being optimized heavily with their own UI and having their own processor, Huawei can't deliver a good amount a battery life at all. I got around 4 hours of SoT (Screen on Time). With moderate usages like switching over data and WiFi, playing casual games, texting, and browsing and streaming on the internet left me about 2% by the end of the day. And if we come to power usage like I do in my daily life, I got it ended up into the charging slot by the end of the day. But thanks to the fact that it at least supports quick charge which charges up the phone from 0 to 100 in about 2 hours completely.
VERDICT
Coming to the conclusion, I would say don't go with the P9 at least for now if you consider performance over camera since we get much better and cheaper alternatives like OnePlus 3. If you bid a little bit high over there, you can get a Samsung Galaxy S7. In the case, if you consider a good camera, great design, and a great performance then you can go with it. But at last, I would still say this is a bit high considering how the P9 is priced in the Indian market. Huawei tried to bring a premium experience to the users and it made very close to that. Finally, I can only say, the Huawei P9 is a major stride forward from a smartphone maker on its way to competing with the very best.