Long ago, We weren't able to tell the best phones under 7000 in a snap. The competition is still there but Xiaomi made a great entry in the budget segment through their budget-friendly device – The Redmi 3S. Since, the launch of Redmi 1S, Xiaomi has been trying to take over the budget market as much as possible. And now, it seems that they've been successful in their trials, though. And today, we'll check out how much successful has Xiaomi been in their trials via reviewing their Redmi 3S. Is it worth for that 7,000 price tag? Let's find out in our full review.
DESIGN
Xiaomi has completely settled on a design aesthetic finally for budget phones which are the same old plastic design. But, it all changed when Redmi 3S arrived. The complete metal body makes the phone premium and kinda somewhat slippery and bulky too. But the curvaceous design takes the heart here by just allowing the phone to fit snugly in your palm.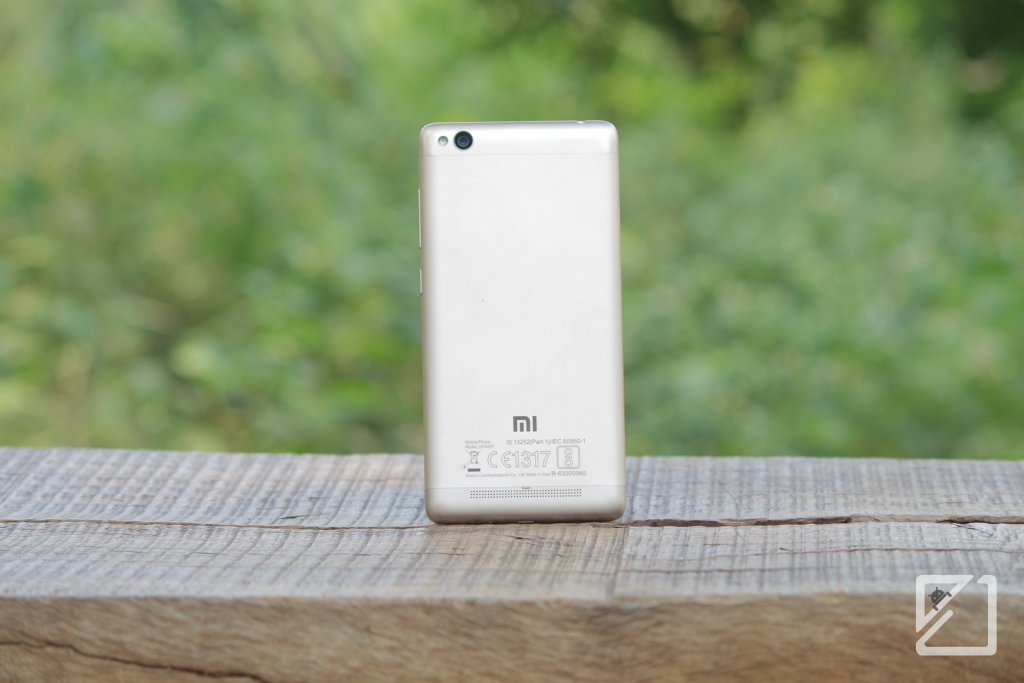 The body comes with power and volume buttons to the right, and a loudspeaker at the back. The placement of the speaker grille isn't ideal but considering the price, we shouldn't expect much from Redmi 3S. What makes the device bulky is the 4,100 mAh battery packed inside the phone which isn't removable after all. On the bottom of the device, the phone has a mic and the standard USB port. To the left, we get the SIM tray slot and whereas on the top we get a 3.5mm jack (a great feature included here), an IR Blaster, and a secondary noise-cancelling mic. When it comes to the overall design, Xiaomi has delivered a phone that feels much more upmarket when compared to other handsets in this segment.
DISPLAY
Coming to the display upright there, the 720p panel on the 5-inch Redmi 3S isn't the densest in this segment, but with a pixel density of 294 ppi, it is more than adequate. What the screen lacks in resolution, it makes up for in brightness and color accuracy. Even though Xiaomi's hardware-based Sunlight Display mode isn't available, you're not going to have any issues with readability in bright conditions.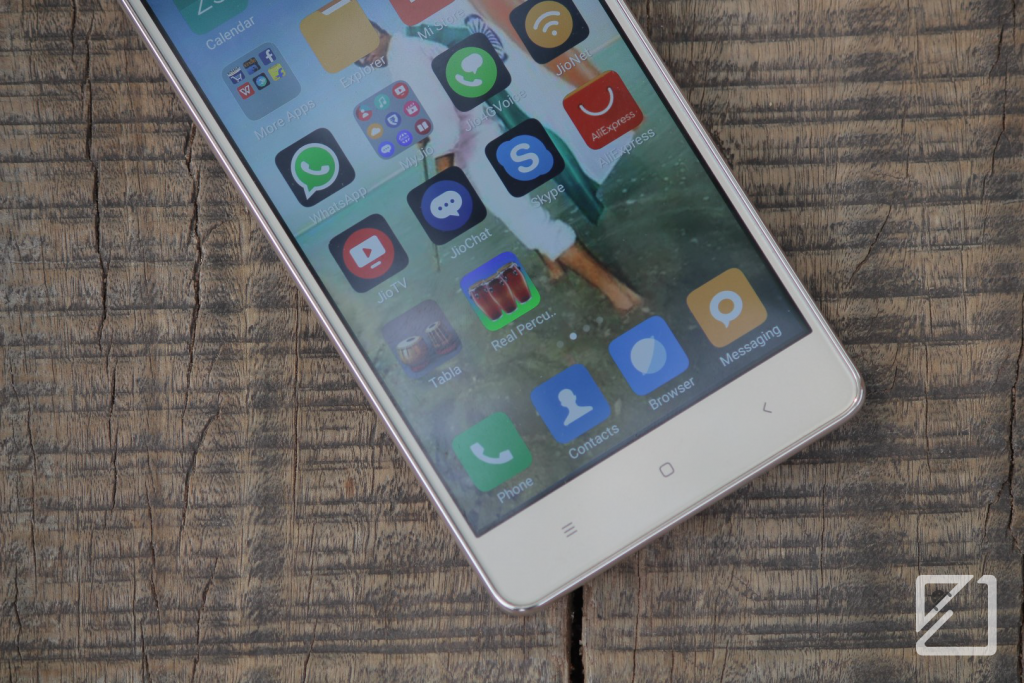 In terms of saturation, Xiaomi always makes their displays punching with their saturated colors. And for me, after using the device for a while, I forgot that I was actually using a 720p display. In terms of protection, the company has not mentioned about what type of screen protection they have adopted in this smartphone. As they have not mentioned anything, we assume, it does not feature Corning Gorilla glass protection. If you are planning to buy one, so it is highly recommended to use tempered glass. It also comes with a reading mode which is handy at night.
PERFORMANCE
The performance is top-notch if you consider that price. Under the hood, it runs on the Qualcomm's Snapdragon 430 octa-core chipset which debuted on this phone at this price segment. Along with that, it is paired with Adreno 505 GPU and 2 GB of RAM (out of which only 1 GB usable). These ensured a very average performance and the RAM management was also not the best compared to other devices. I remember facing some very few minor lags during our usage, and graphic-intensive games like Assassin's Creed: Identity, Asphalt 8, N.O.V.A 3, Pokemon Go, etc. were handled with relative ease. The device heated up a little but yeah, it didn't go high, though. It comes with 16 GB onboard memory out of which only 10 GB is usable which is quite less for me but not if you consider the price. You can, however, use a microSD card to expand the storage up to 128GB. In terms of performance in benchmarks, the Redmi 3S Prime came out with decent scores. It managed 41,921 on AnTuTu and 2841 on GFX Bench 3.
SOFTWARE
The Redmi 3S runs on Android 6.0.1 Marshmallow based on MIUI 8 which got a recent update (out of the box it comes with MIUI 7). I'm always not a big fan of MIUI at all but after the MIUI 8 update, it felt better compared to the MIUI 7. But still, I'm not a fan of it. I encourage you to get a launcher and an icon pack to make the Redmi 3S look better.
I think that it would be quite a little bit harder for everyone to find a bit harder to find the settings for each thing. At least, there is a search bar on the top. Getting used to MIUI is like getting used to iOS after using an Android device. Check out the screenshots below to get a complete overview of the MIUI.
As always, I'm a big fan of stock Android. So, I wasn't that much happy with the MIUI, though. It was like a mixed up experience of Android and iOS with a designer's few touches for me at least.
CAMERA
On to the camera side, I got a very good satisfactory experience with the 13 MP rear camera and the 5 MP front camera.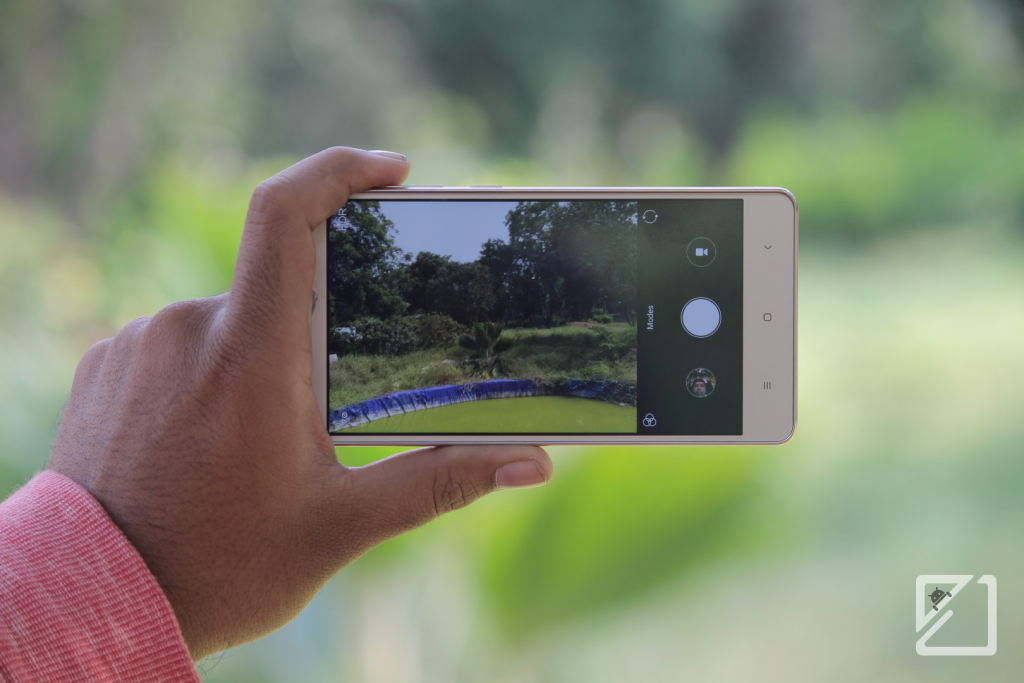 The rear camera offers a 13 MP camera with f/2.0 aperture with PDAF support. There's nothing much to tell about the camera. The camera produces decent images in bright conditions, although dynamic range is very limited. That's easily fixed by enabling HDR, but doing so leads to lengthy shooting and processing times. It takes a few seconds for a photo to save to the phone's gallery, and more often than not I found that the autofocus was too slow to dial in on a subject. Take a look at the rear camera samples below.
The front camera, on the other hand, offers a 5 MP shooter which is quite a bit average. The fixed-focused sensor lets you take wide-angle shots. It also "guesses" your age as soon as you line up your face in front of the camera. According to Xiaomi, I'm either 24 to 31 years old. The camera app offers a slew of features, including 36 beautify effects, ability to shoot in manual mode (don't bother with that one), and 12 filters with live previews. Take a look at the front camera samples below here.
BATTERY
The 4,100 mAh battery is mind-blowing. It's the best batteries I've ever tested. The combination of a 720p display, aggressive memory management, energy-efficient Snapdragon 430, and a massive battery has allowed Xiaomi to deliver a handset that offers two days of battery life without any hassles.
The phone blows every other handset I've used out of the water when it comes to battery life. I regularly saw close to six hours of screen-on time spread over two days of heavy usage, and there were days where I got nine hours of screen on time. The Snapdragon 430 supports Qualcomm's Quick Charge 3.0, but Xiaomi hasn't implemented it on the phone. You do get fast charging at 5V/2A through the supplied charger, which takes over two hours to fully charge the phone. A non-stop session of Pokemon GO lasted for about 7 hours on the smartphone which is excellent!
VERDICT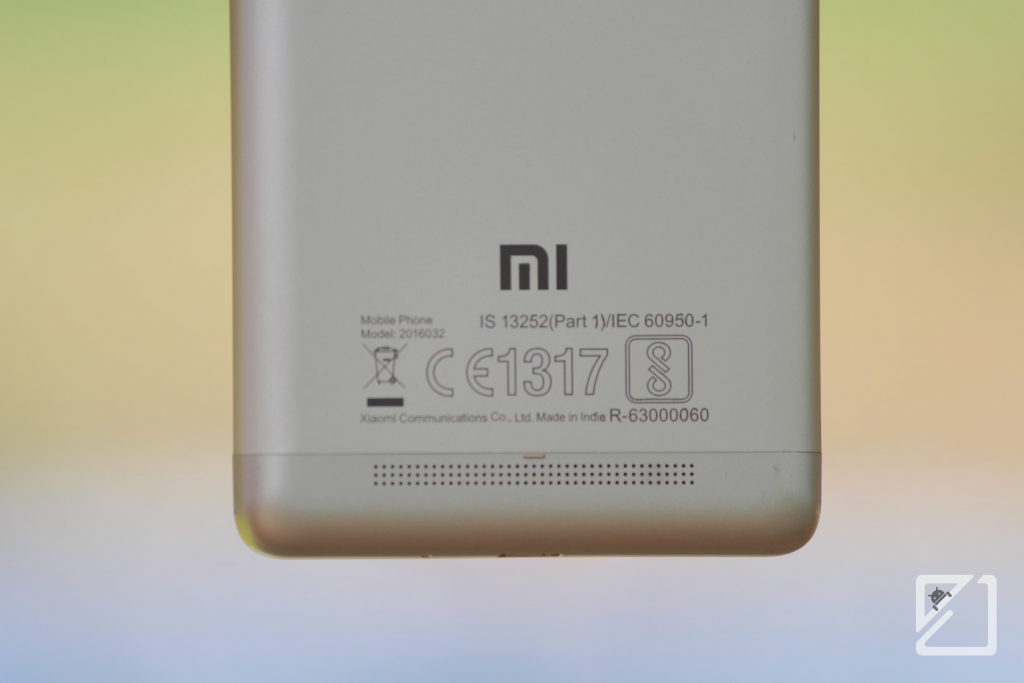 The standard Redmi 3S at Rs 6,999 is great in and of itself. With the Redmi 3S, you're getting a wonderful handset and one of the very few budget phones that delivers on its promises. Featuring an excellent display, metal chassis, powerful hardware, and class-leading battery life, the Redmi 3S stands above all others in the entry-level segment.