Vivo –  a Chinese vendor has setup itself in the 2009 and way back since it got some good amount of audience in India and got a premium reputation for itself. Vivo recently offered two new phones  –  the Vivo V3 and the Vivo V3 Max. And today we're going to check out the youngest one among them – the Vivo V3. The Vivo V3 is a premium handset loaded with 3GB RAM and 32GB ROM. It's powered by Snapdragon octa-core processor and packed with the fingerprint sensor on the back. It indeed comes with the fastest fingerprint unlock, read the review to know more.
DESIGN
The Vivo V3's design looks similar to an iPhone. Yes! an iPhone. But the one thing that separates it from iPhone is its fingerprint being given on the back. The Vivo V3 feels very premium and lightweight in our hands. The design just stole my heart. On the top of the phone, there's a microSD card slot and a 3.5mm audio jack. Coming to the bottom, there's a USB port, speaker, and the mic. On the left side, there's a SIM card tray while on the left there are volume and lock keys. The gold rim along the phone's bezels and the smooth round corners and edges makes the device pop out from other devices. The fingerprint sensor looks premium too as well with the sane gold bezels. Looks like Vivo took a lot of care in details in the design department.
PERFORMANCE
Under the hood of the Vivo V3 is Qualcomm's Snapdragon 616 octa-core chipset paired with an Adreno 405 GPU and 3GB of RAM. The combination is good enough to ensure a smooth performance even with multiple apps running in the background. I didn't remember facing any major lags during our usage, and graphic-intensive games like Assassin's Creed: Identity, Asphalt 8, N.O.V.A 3, etc. were handled with relative ease. The device heated up a little but yeah, it didn't go high, though. The Vivo v3 comes with 32GB of built-in storage of which around 22GB is available out-of-the-box. You can, however, use a microSD card to expand the storage up to 128GB. Here are the benchmark scores.
The fingerprint sensor is very responsive and unlocks the device in just 0.1 seconds. In comparison with the LeEco Le 2, V3's fingerprint scanner unlocks faster.
DISPLAY
The front panel of the device has 2.5D glass, which gives it a rather premium feel. It's a 5-inch HD IPS display. I should say that I am quite impressed with the display of Vivo V3. It did not disappoint me even in the sunny surroundings. The brightness level automatically adjusts when switching between indoor and outdoor. The color reproduction is also excellent when playing games and watching videos on the device. The 5-inch display size is not at all a letdown, but a wish granted for people with small hands (including me). It is perfect for single-hand operations.
CAMERA
In the camera side, the Vivo V3 gives a satisfactory experience with it's 13 MP rear and 8 MP front camera. There's nothing much special to tell about the camera. The UI looks to be taken from iOS directly and puts here. The rear camera on the Vivo V3 features a LED flash, PDAF, and 1080p video recording, along with a variety of modes such as Panorama, watermark and professional, Beauty, HDR, and Night mode. According to the price of the device, anyone could expect a great camera but it fails to get a wow here.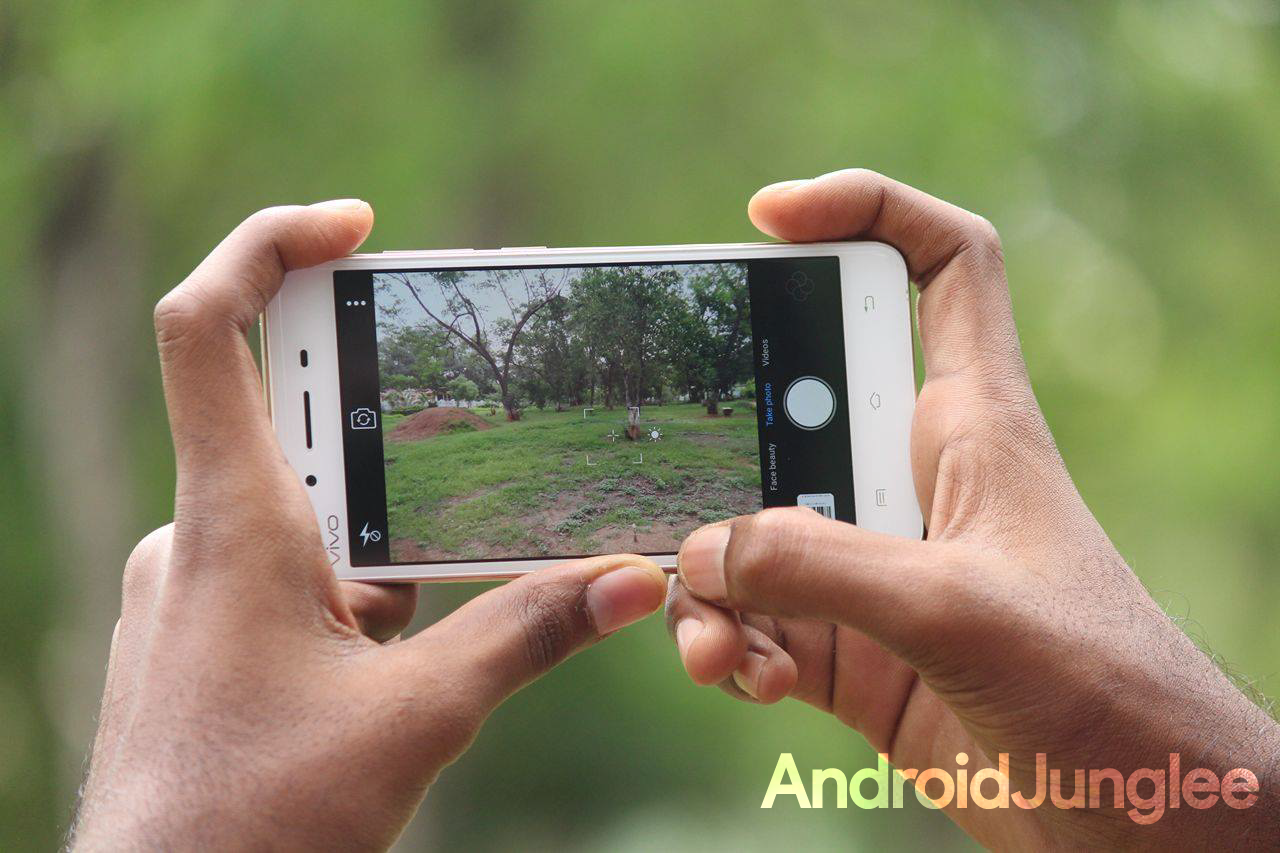 Some of the outdoor images looked good (thanks to natural light), but many of the pictures came out okayish. The front camera also delivers a satisfactory performance. Here are some photo samples for you to check out.
Rear Camera
Video Sample
Front Camera
Video Sample
BATTERY
The 2,550 mAh battery does a great job and gives the juice about a day for daily normal usage. I used some common apps like Facebook, Messenger, Google Search, Whatsapp, YouTube, Telegram, etc. They all were in the background and still I got a full day usage. After using it in power mode, it did well too. I got 13 hours of usage still. So, the battery was optimized nicely.
Even though not having the USB Type-C port, it charges much faster than I expected. It charges up to 30% in just 8 minutes. And yes, it is good that it gives much more juice than expected.
SOFTWARE
The Vivo V3 runs on Android 5.1.1 and top of it there's FunTouch OS UI. I should say that the OS is a complete rip off from iOS. For the ones who have used an Apple device before, you can't help but feel surprised by the stark resemblance of both the UIs. The settings menu is like a mirror copy of iOS and so are the other default pages. The FunTouch UI did a good job, though, and it gave an answer to my question,"How would iOS interface look on an Android?" Well, Vivo V3 is exactly how iOS would look on an Android.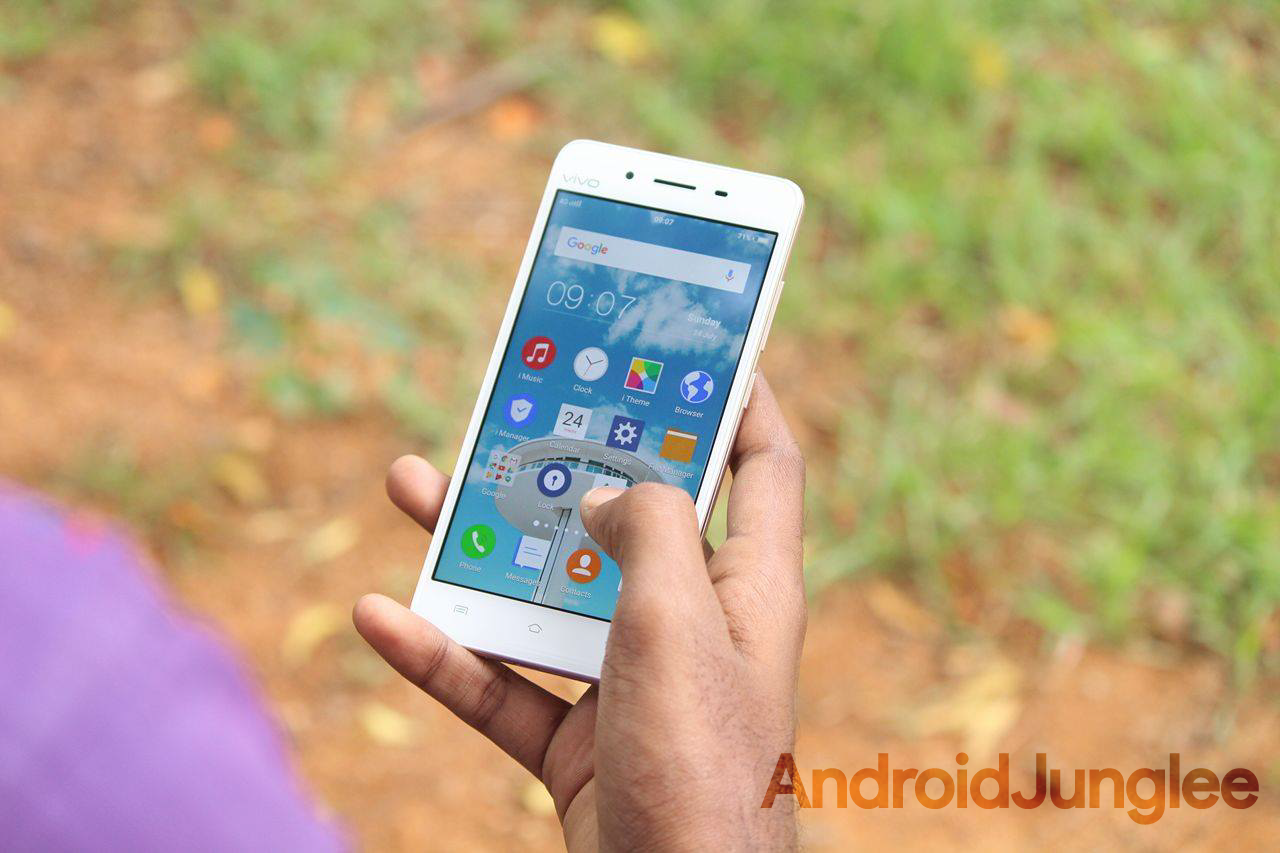 Android users would feel a bit lost when searching for Wi-Fi and other notification menu options on the Vivo V3. On this device, the notification bar only displays messages, alerts, and e-mails. For quick services such as Bluetooth, Wi-Fi, a dedicated menu opens when you slide your finger in the top direction.
The Funtouch OS comes with some nice smart gestures, Hi-Fi audio, Multi-screen and many more features, the UI seemed to be good for one's daily use and it took me some time to get used to it because I use iOS very less usually and thus it took me some little time. But if we leave the thing that it's an iOS copy, then I should say that yeah, the UI is good for any normal person.
VERDICT
Vivo V3 is an excellent device, and I was surprised to see how good a Vivo device could function. However, its pricing is the only factor that bugs me.I never expected such kind of features before I got to play with this in my own hands. I'm now using it as my daily driver and it's perfect and I don't have much more words to tell about this device. It's much better than any other devices such as Yu Yunicorn. Having a price tag of 14K, I will recommend you to buy it without any doubt at all. It's the coolest device I've found under 15K.