OnePlus has taken the smartphone industry to all new level with OnePlus One in 2014. That was the most hyped smartphone at that time but the invite system was painful. Then came OnePlus Two, too much hype led to the fall down of the device which didn't leave up to the expectations. OnePlus did even try a midrange device OnePlus X which did reasonably well. This time, they came up with more sensible device OnePlus 3 and thankfully there was no invite system. I'm testing out this device from past few weeks, wasting no time let's straight go into the review.
Design
Remember OnePlus One design? Yeah, that something out of the box. It was unique and sandstone texture made it more attractive. OnePlus 3 design is sort of traditional which I wasn't expected. The first impression you might feel like "Ahh! looks like an HTC device" but OnePlus added it's own charm with Full metal Aluminium body. The phone feels solid in the hand, looks like an high-end 800$ premium smartphone.
The Fingerprint sensor is on the front which works like a charm. The volume rockers and notification slide have placed at the top left. The speakers, 3.5 mm jack, and USB Type-C port are at the bottom. The power button is placed at the top right and below the sim slot. Camera hump on the back is sort of annoying especially when you don't like to use a protective case. OnePlus have played safe with the device, they kept it simple and clean.
Performance
OnePlus 3 is loaded with the powerful Qualcomm Snapdragon Quad-Core processor clocked at 2.2 GHz + 1.6 GHz. The Processor comes with Adreno 530 GPU, a heaven for gamers. On the top, it has humongous 6 GB of Random Access Memory (RAM). No surprises, OnePlus 3 performs flawless and does everything you through at it. Initially, it had RAM Management issues but now fixed with the OTA update.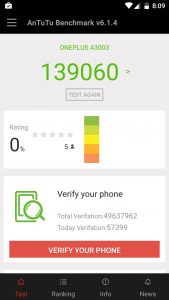 The gaming performance is top notch, played HD games without any issues. Tried Asphalt 8, NOVA 3, and some basic games, no frame drop,  and lag noticed. Check out the Antutu benchmarks.
Display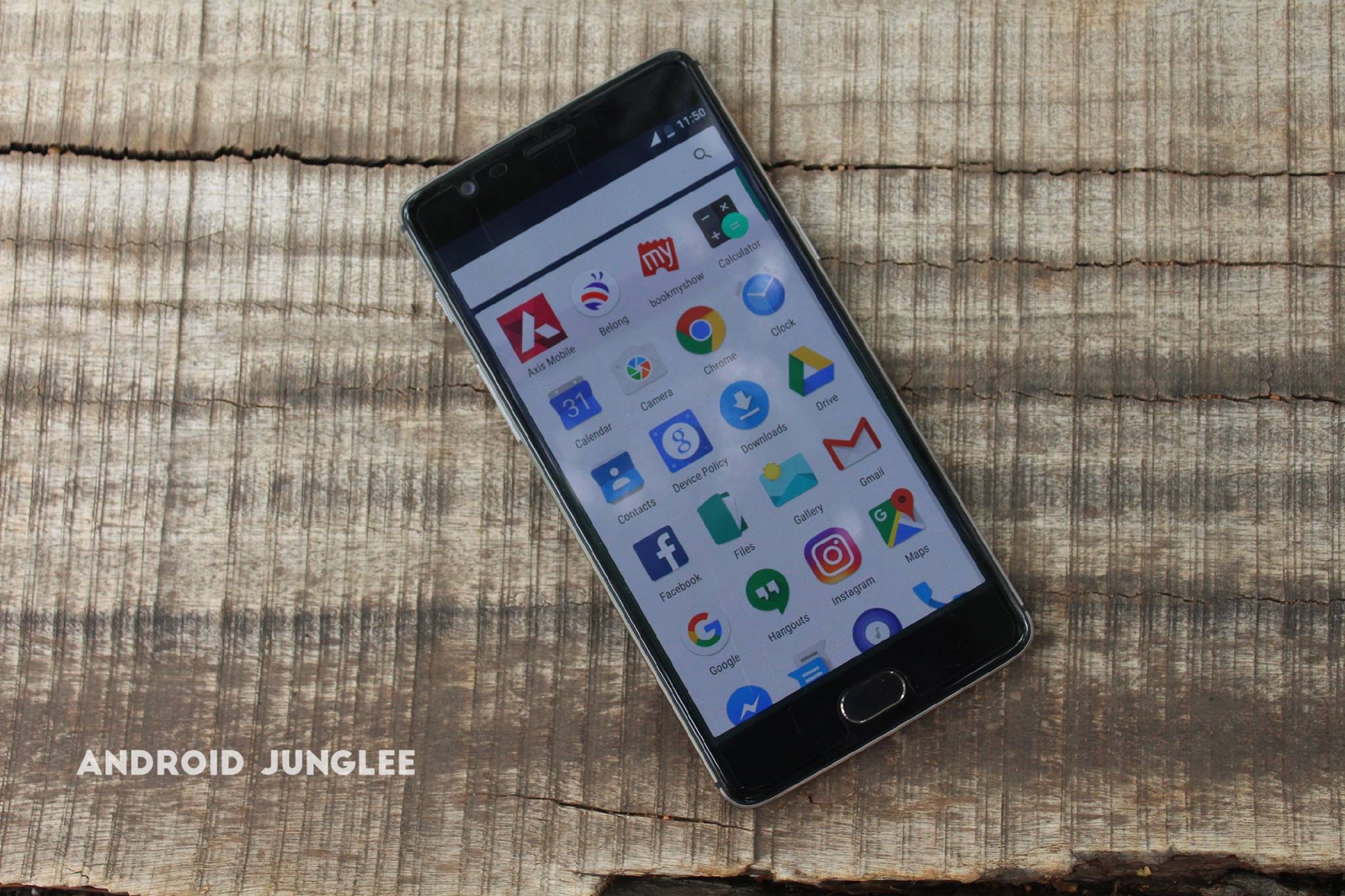 OnePlus 3 sports a 5.5-inch optic AMOLED 1080P display. A lot of controversies regarding display, AnandTech rated OnePlus 3 display even worst than Samsung Galaxy S display. OnePlus CEO Carl Pei posted on Reddit" I'm sick and tired of sentiment like this. It may not seem so, but for a product company — it's insulting". OnePlus immediately released Oxygen OS 3.2.0 OTA update with an sRGB mode. The sRGB mode uses Red, Green, and Colors to enhance the color production. After the update, the display improved with better color management. Expecting a better display in upcoming flagship OnePlus 4.
Camera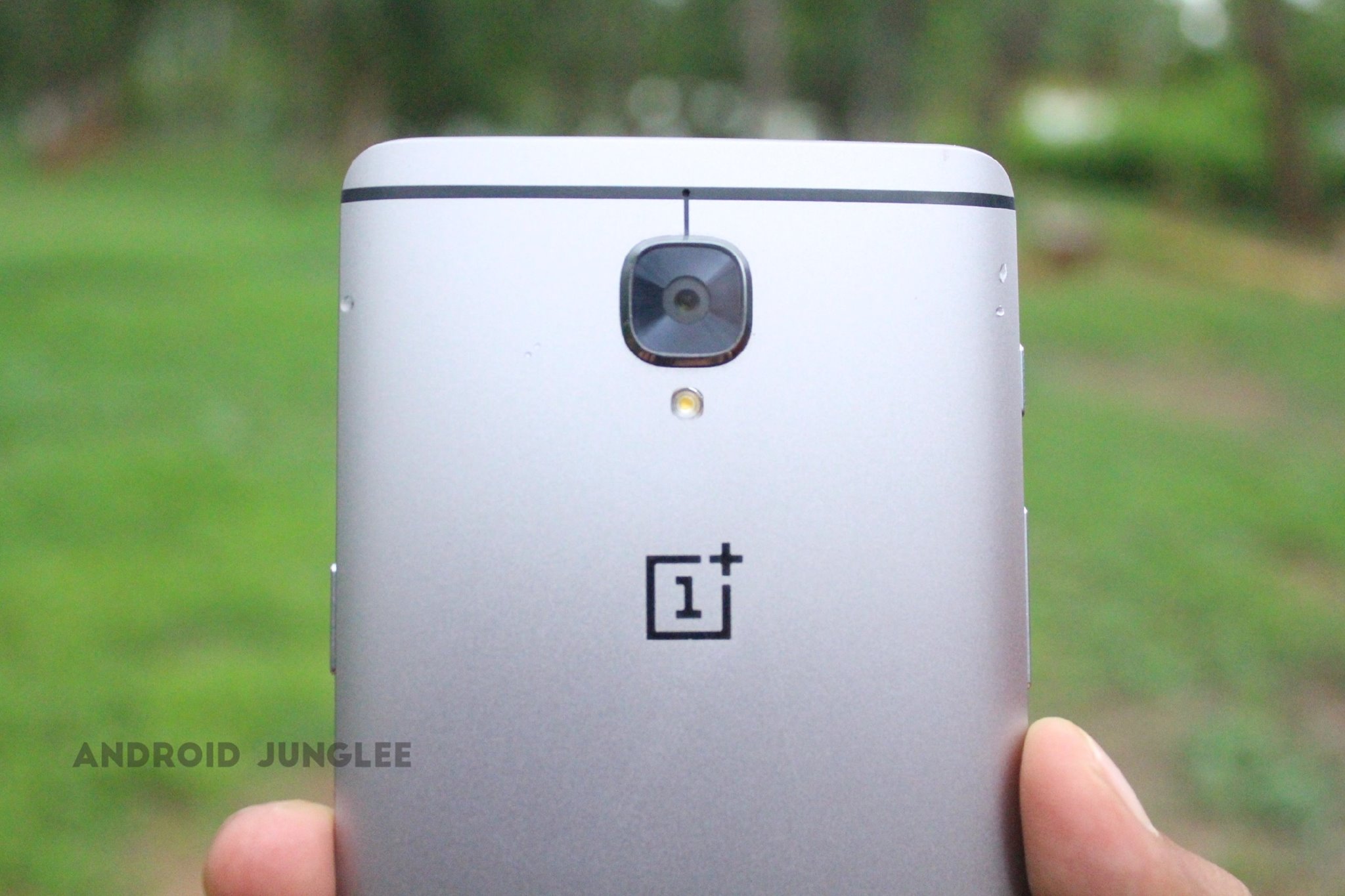 OnePlus flaunts a 16-megapixel rear camera with Optical Image Stabilization (OIS) and Electrical Image Stabilization (EIS). The Camera UI is simple with camera modes like Timelapse, Photo, Video, Slow motion, and Panorama. On the front, we have an 8-megapixel selfie camera. The 13 MP camera can record videos up to 4K including 720P and 1080P. The rear camera does perform pretty well and has good depth of field. The detailing is sharp and focusses the objects 8/10 times. We faced a slight delay in focussing macro shots but somehow manages to focus it. When you use tap to focus in natural light it over exposes.
The camera did perform exceptionally well in most conditions but the quality degrades in low lighting. The video quality was good but lacks bite in slow motion. The 1080P video turned out to be pretty good especially the colors. The 8-megapixel front camera will definitely make you a selfie maniac. The quality is just amazing, I usually use the front cam to capture selfies.
Rear camera
Front Camera
Battery
OnePlus 3 houses a 3000 mAh battery with Dash charging. It took just 30 minutes to charge up to 60% and exactly 60 minutes to full charge. The dash charger is just amazing, it was way better than any quick chargers out there.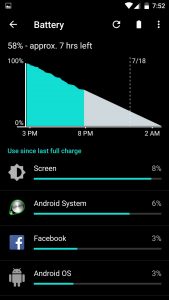 Before the OTA update, the battery backup was kind of average. Now after the Oxygen OS 3.2.0 update, the battery performance improved significantly. It is giving around 12 hours on normal usage and 4-5 hours on heavy usage. On an average, you can expect up to 8 hours of battery backup.
Oxygen OS
The Oxygen OS almost feels like a stock android. The UI is clean and snappy, bundled with handy features. Customize LED notifications like setting the colors. You can enable Onscreen navigation bar and swap buttons. The OS provides many options in developer mode like selecting mock location app, selecting debug app, background process limit etc. It allows you to control the hardware accelerated rendering. Gesture mode helps you to control the device using gestures such as double tap to wake up, drawing 0 to open the camera, and draw a V to toggle flashlight.
Conclusion
OnePlus 3 is probably the best and affordable flagship device you can get right now. The build quality is top notch, the traditional aluminum metal body design looks gorgeous. The dash charger works like a charm and gives decent battery backup. A powerful hardware rocking Snapdragon 820 and 6 GB RAM makes it a killer device. If you are looking for an affordable high-end smartphone then you can look for OnePlus 3.