The classic Nokia 3310 is revamped this year and now, to mark the historic meeting of Trump and Putin, a Russian company is selling a Putin-Trump special edition of the Nokia 3310. It has both Trump and Putin together on the same phone. This special Putin-Trump version of the revamped Nokia 3310 is created in honor of the meeting of the president of the US and Russia at G20. The smartphone comes with the price of RUB 149,000, or $2,466  (Rs. 1.6 lakhs approx.).
The Nokia 3310 Putin-Trump special edition has been created by Russian phone customize Caviar. It has a luxurious leather casing that has stripes of 'Black Velvet.' The phone is made up of  VT-23 grade titanium, and the coating is a damask steel pattern. The phone comes with a gold plated circular emblem with Donald Trump and Vladimir Putin in it. The venue and date of the meet-up of the presidents are embossed on the lower back in gold. According to Caviar (Luxury smartphone maker), the smartphone has the face of  Donald Trump and Putin who are looking in the same direction this represents the typical desire for the progress of both nations.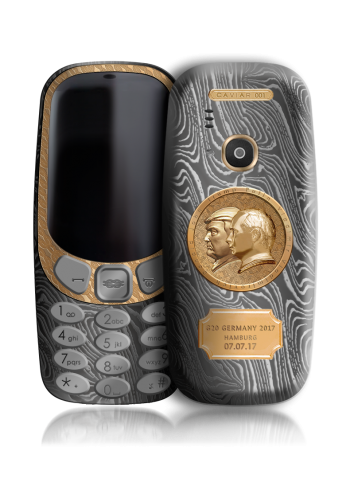 The specs are similar to the ones found inside the regular New Nokia 3310 which cost around Rs.3310 or $55. But this is new limited edition phone which has a price tag of RUB 149,000, or $2,466.