Searching on how to use Tez App? Google has launched its payments app for India called Tez. After the demonstration happens last year there is rapid growth in digital payments space and Google is going take advantage of this.This app uses Unified Payment Interface (UPI) and allows users to connect their bank accounts to the service just like BHIM and Phone Pe App. Google has partnered with State bank of India, HDFC Bank, ICICI Bank, Axis Bank with 52 other banks for the service. And you can choose any of the 55 banks available in the list to use this app.
Steps on How to use the Tez app by Google
First of all, you have to download the Tez app which is available on both Android and iOS platform. You can download the Tez app either from Google Play store or from Apple  App Store.                                                    
After you install the Tez app then you have to enter your phone number so that Google can verify you with an OTP SMS.             
After the successful verification of your phone number, the app will ask you to enter you a PIN to protect your Tez App account. You can also use fingerprint or pattern lock to protect the app.                                   
Now you need to link the app with your bank account in order to send or receive money. To link the app with your bank account you need to click on "Add Bank Account". It will show you all the available 55 banks from which you have to select your bank name and proceed. Then it will ask you to enter the last six digits of your debit card and card expiry date following which your UPI ID will be generated and will be verified using an OTP. You need to enter a valid card number of your account and register the app using that phone number which is linked to your bank account.       
After this, you can use the app to send or receive money.  There is a cash mode in the app and allows you to make payment when the person who you are paying is with you. Just put the phones together, hit the cash button and make the payment. 
There is also a QR code method, which lets you scan a QR code to make the payment. This is very similar to Paytm in which you can send money via QR code.
You can also send and receive money using the good old IFSC code and bank account number.                 
You can also make the payment through the phone number. People who are already using Tez are shown in the app. To make the payment you have to just tap on their phone number and send the payment. Or you can receive it. You can also chat to the person you are paying or getting the payment within the app itself.
Tez is a very light and fluid app. On Android, the size of App is only 7MB and the UI is very clean and minimalistic. There is a feature in which you can send or receive money through your phone without giving your phone number, UPI code or Bank details. And this thing won't require any special hardware like NFC which we have seen in Android Pay. It uses Ultrasonic sound waves generated via speaker and the receiver can use the inbuilt mic to listen to the sound waves. These sounds are not audible to humans and Google is calling them Audio QR code. This is a very interesting and a unique feature of the App.
Currently, this app is not connected to Android Pay and there is no support for e-Wallets. The Tez app also needs to support credit and debit cards and not just bank accounts. But these are early days of Tez.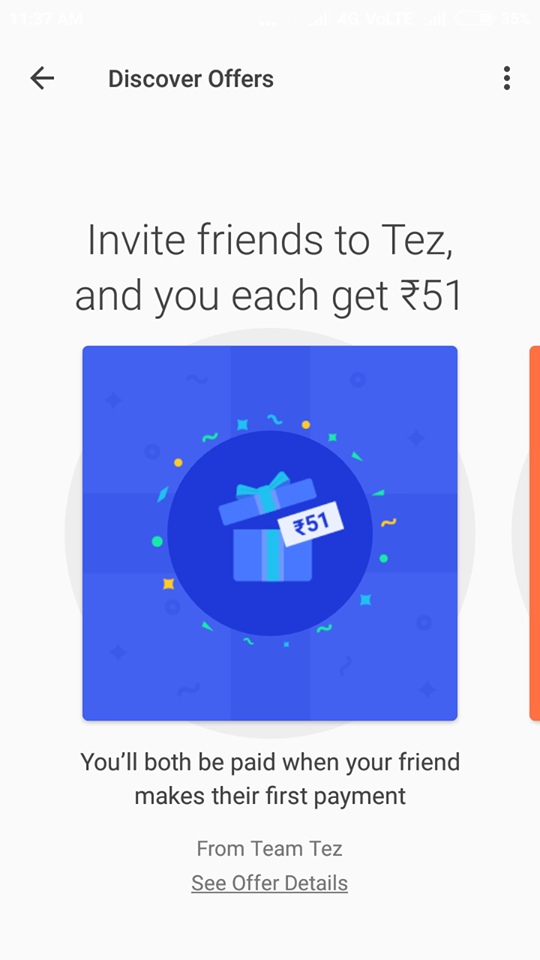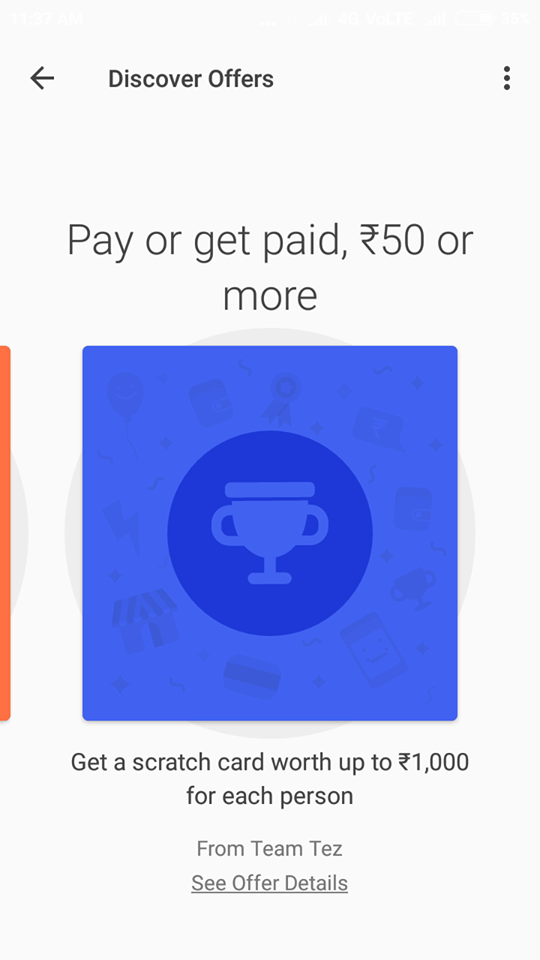 Initially, Google has some special offers which include a referral program in which a person can earn Rs. 51 for adding new users to the app. It is also offering rewards to users that can run help users win up to Rs 9000 per year through referrals or they can win up to Rs 1 lakh per week. It is one of the best mobile wallet apps in India.
Install from here