Google unveiled the new flagships Pixel 2 and Pixel 2 XL quite a while ago. The design was refresh from the older version and looks great in my opinion. But wait, did you noticed their new Live Wallpapers?. The Live Wallpapers are pretty much a moving object on your Home screen or Lock screen. It can be anything such as birds-eye-views of impressive locations like Monument Valley, Mount Vesuvius and the coastline in Lagos in Nigeria, along with images of the Earth, the Moon and other celestial bodies viewed from space.
The wallpapers which you can get are Glimmer and Gooey, plus a design that shows the wind patterns wherever you are. You can now get that cool Live Wallpaper feature of 'Pixel' devices on your current smartphone by using some simple steps. So, let's jump into the process of bringing live wallpapers on your own device.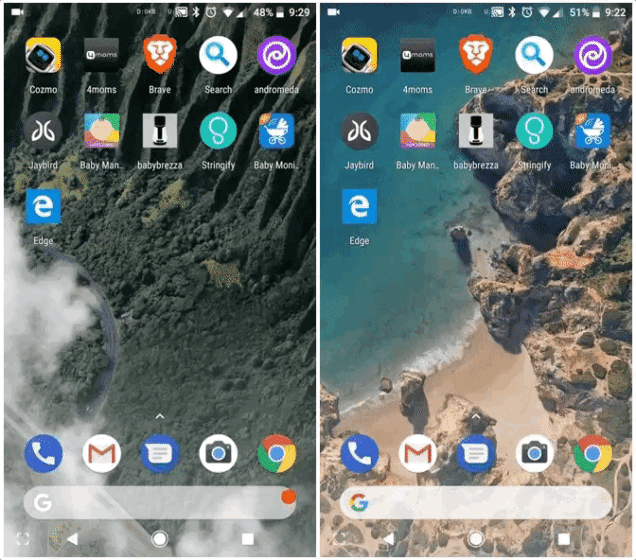 The Actual Steps to get Pixel 2's Live wallpapers
Get started by installing, Google's Official Wallpaper's app which is available on Google's Play store.
Now, Install the app called Pixel wallpapers 2017 port 8.0.0 PP-6.0+ arm64 beta,  which was developed by Pranav Pandey, which is available on APK Mirror's website.
Now, touch and hold on the home screen until you get a popup screen with an option called Wallpapers and select it.
Just select the Live Wallpapers tab in the menu and select the desired wallpaper you want to have on your home or lock screen.
Must Read: Top 5 Features of Google Pixel 2
In this way, you can enjoy the Official Pixel 2's trendy looking new Live wallpapers into your current smartphone and show off to others.
PS: The Android Smartphone that you are trying to install these Live Wallpapers should be having a software version of Marshmallow 6.0 or above.