The latest ultra-low budget smartphone BLUBOO D2 is going to launch globally on 12th December. It will come with a special discount on 12.12 shopping carnival. The D2 smartphone is the last smartphone launched by BluBoo.
The BLUBOO D2 is powered by quad-core processor and features a 5.2" 720p HD display. The smartphone houses a 3300 mAH. The smartphone comes at a decent price of $69.99. But at the promotional offer on 12.12, it will come with a discount of 30% and the effective price of the phone will be $49.99.  New customers will also get a gift package which includes film protector, a phone cover and a ring phone holder. You can get the offer by clicking this link.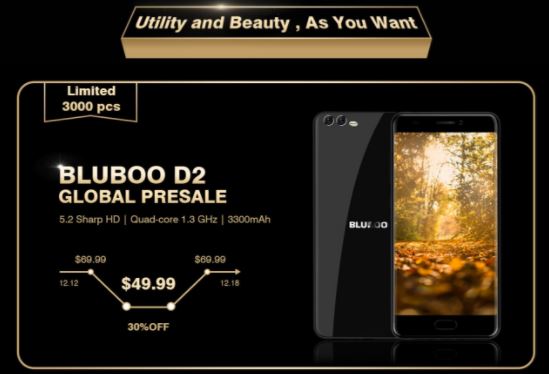 BLUBOO is also organizing a flash sale of the BLUBOO S8+ flagship from 12th Dec. to 18th Dec. In this flash sale, it is going to be sold at price of $74.99 which is actually the half of its original price.